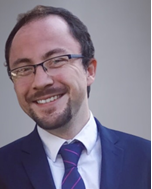 After receiving his Master degree in Chemistry from the University of Namur (Belgium), Kevin Dedecker left his home country to do his Ph.D. in Versailles and Paris (France) under the supervision of Dr. Christian Serre. 
During his career, he specialized in the field of Metal-Organic Frameworks (MOFs) for multiple applications including photocatalysis, OLED elaboration, sensing and the adsorption of Volatile Organic Compounds (VOCs). He is strongly interested in the light-matter interactions and the design of new materials. 
In early 2020, he joined Prof. Giulia Grancini's team at the University of Pavia (Italy) to work on Hybrid Perovskite photovoltaic cells in the frame of the European ERCStG Project «HYNANO».
Synthesis and Deposition of hydrophobic MOF's for capture of water molecule
Supervisor: Pr. G. Grancini
Università di Pavia – Pavia, Italia
Postdoc
05/2019 to 10/2019
MOF/Metal based films for the detection of VOCs (completing PhD project)
Supervisors: Dr. E. Dumas, Pr. N. Steunou, Dr. C. Serre
Institut Lavoisier de Versailles, UVSQ, Université Paris Saclay – Versailles, France
Multifunctional hybrid materials for the capture and detection of Volatile Organic Compounds: Application to the preservation of cultural heritage objects
Supervisors: Dr. C. Serre, Pr. B. Lavédrine, Dr. E. Dumas, Pr. N. Steunou
Institut Lavoisier de Versailles, UVSQ, Université Paris Saclay – Versailles, France
Centre de Recherche sur la Conservation, Sorbonne Universités – Paris, France
Collaborators: Pr. M. L. Pinto (Universidade de Lisboa, Lisbon, Portugal) and Dr. C. Boissière (Université Pierre-Marie Curie, Paris, France)
Internship (Erasmus)
01/2014 to 04/2014
Design of luminescent Titanium based MOFs for OLEDs
Supervisor: Pr. R. E. Morris
University of Saint Andrews – Saint Andrews, Scotland
Synthesis of isostructural Titanium based MOFs for the photocatalytic conversion of CO2 and water splitting
Supervisor: Pr. B.-L. Su
University of Namur – Namur, Belgium
2019: Ph.D. Thesis – Institut Lavoisier de Versailles – Versailles, Île-de-France, France
2014: Master of Science: Chemistry – University of Namur – Namur, Belgium
2012: Bachelor of Science: Chemistry – University of Namur – Namur, Belgium
"Enhancement of the ethane selectivity in ethane-ethylene mixtures with the bulky perfluoro groups in Zr carboxylate-based Metal-Organic Frameworks" 
J. Pires, J. Fernandes, K. Dedecker, J. R. B. Gomes, G. Pérez-Sanchez, F. Nouar, C. Serre, M. L. Pinto, ACS Appl. Mater. Interfaces, 11, 30, p27410-27421 (2019)
"Metal-Organic Frameworks for the capture of volatile organic compounds and toxic chemicals"
K. Dedecker, E. Dumas, B. Lavédrine, N. Steunou, C. Serre, Metal-Organic Frameworks (MOFs) for Environmental Applications, Elsevier, ISBN: 9780128146330 (2019)
"Metal-Organic Frameworks for Cultural Heritage Preservation: The Case Of Acetic Acid Removal"
K. Dedecker, R. S. Pillai, F. Nouar, J. Pires, N. Steunou, E. Dumas, G. Maurin, C. Serre, M. L. Pinto, ACS Appl. Mater. Interfaces, 10, 16, p13886-13894 (2018)
Awards
Award for the best oral communication in the Day of the 2MIB's doctoral students